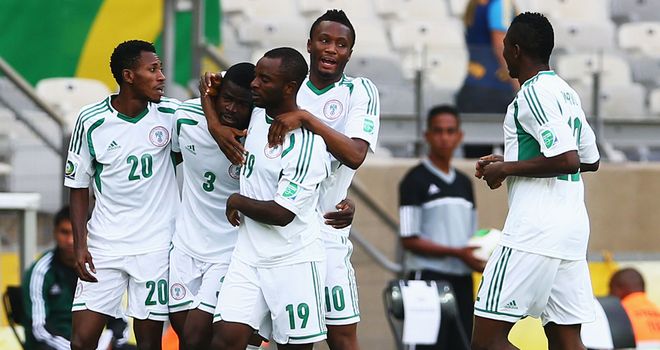 Uwa Elderson Echiejile: Celebrates after scoring the opening goal
Tahiti's first taste of a major tournament was as chastening as had been predicted as Nigeria wracked up a 6-1 win with early and late bursts in Belo Horizonte.
With Tahiti having taken a squad to the Confederations Cup that is so inexperienced some of them do not have jobs let alone professional contracts, a resounding Nigerian win was always on the cards and so it played out.
They were three up after 25 minutes - AC Milan's Nnamdi Oduamadi scoring the first two instalments of his hat-trick following an early own goal from Nicolas Vallar - before the most popular goal of the night from Jonathan Tehau saw Tahiti make it 3-1 in the 59th minute.
But, for all Tahiti's commendable spirit, their ball retention was poor and their defending dire, meaning Nigeria had three further goals to come
- from Elderson Echiejile, Oduamadi and another own goal from Tehau - as time and again they found themselves free in the area.
With everything stacked against them Tahiti could have at least hoped for good fortune but, with five minutes gone, Echiejile's off-target shot was diverted into his own goal by Vallar.
Marama Vahirua tried to respond with a rising effort that was tipped over but not deemed as a corner, before it became 2-0 with 10 minutes gone as Oduamadi cashed in after some errant passing between the Tahiti defenders.
It looked like they were going to score with every attack, although Ahmed Musa had an airshot when presented with an open goal, before Oduamadi made it three when keeper Xavier Samin coughed up a regulation cross. He redeemed himself as he denied Oduamadi a hat-trick, while at the other end Steevy Chong Hue punched the ground after he headed over from a yard.
The minnows would get their moment, though, as Vahirua's corner found Tehau and he nodded in at the back post with 54 minutes gone. Nigeria had a fallow period in attack after that before Oduamadi was denied his third once again by the offside flag.
A fourth goal did come with 68 minutes on the clock as Tehau prodded in ahead of his own keeper, before Oduamadi finally got his treble when he slotted in from a John Obi Mikel cross.
A sixth goal would arrive too, Echiejile cracking in the loose ball from a cross.